We like to share our knowledge. Not only in written form, but also by spoken word.
Trustworkers IRL shouldn't be missed!
This is an overview of where we are scheduled to appear – some of the talks will be at closed gatherings, so feel free to get in touch to make sure you can get in! … Or if you want to set up a repeat performance.
We also offer quite a few courses and inspirational talks that may be booked as and when needed. Check out Trustworks Academy!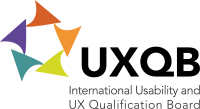 Elvi Nissen hosts the first CPUX-UR course and certification in Denmark